This dish is a family favorite – a combination of pasta with a ricotta, spinach and pecorino stir-through sauce, served with steamed baby broccoli tips dressed with butter, garlic and olive oil, accompanied with freshly grated parmesan cheese.
Preparation and cooking time: 15 minutes.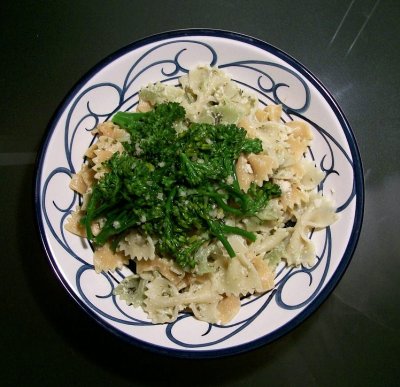 The finished dish, pasta with broccoli.
For this dish I prepared a dressing for the broccoli using a small bowl (about 50 mls. in size) and combined a heaped teaspoon of butter (or margarine), one crushed garlic clove, a sprinkle of chopped chives, and a dribble of olive oil. Using the teaspoon I folded the mixture together until smooth. Once the broccoli is ready to serve, pour the mixture over it and toss lightly to distribute evenly.
I'm using an off-the-shelf stir though pasta sauce. In this particular example its Kraft Foods Ricotta, Spinach and Pecorino Sauce available in most supermarkets. When the pasta was cooked, I simply mixed in two heaped tablespoons of the sauce, stirred it though to get a good distribution, and then shared the pasta out on the the plates. After that, just add the dressed brocolli and your ready to serve.
Starting with the broccoli pictured below I cut off the thick stems, leaving just the broccoli flowers on the little stems. I steamed these for about 7 minutes before adding the dressing (see above). Fortunately we have one of those great spaghetti cooker things with a container for the pasta and a steamer above which makes cooking this meal a breeze.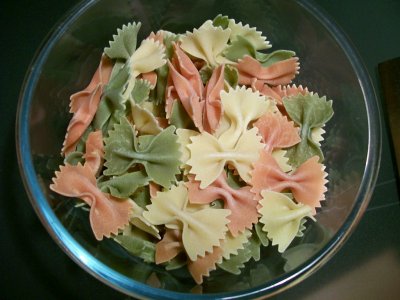 Some pasta.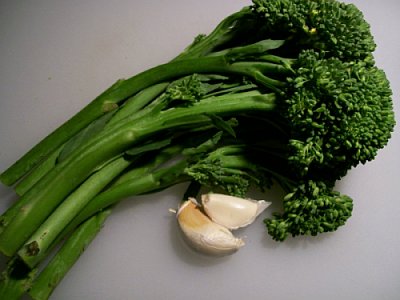 Fresh baby brocolli and garlic.
Ingredients (2 serves)
1-2 cloves of garlic
tsp of butter or margarine
a dribble of olive oil
a sprinkle of chopped chives
180-240 grams pasta
100 grams baby broccoli
Ricotta, Spinach and Pecorino stir-through sauce (Kraft Foods)
1/4 cup of grated parmesan cheese
Method
put on the pasta
prepare broccoli dressing by mixing together the butter, crushed garlic cloves, chives and olive oil – set aside
about 7 or 8 minutes before the pasta is done, start steaming the broccoli and preheat two of three tablespoons of the stir-though source
when the pasta and broccoli are done, drain the pasta and mix though the preheated sauce, and pour the prepared dressing over the broccoli
serve the pasta into the individual plates and garnish with the dressed broccoli
serve with grated parmesan cheese in a side dish