Classic Italian spaghetti and meatballs in a recipe that is easy to prepare.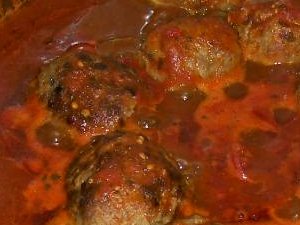 Ingredients (4 serves)
800g beef mince
1 egg
1/2 cup breadcrumbs
1/2 teaspoon each of salt and pepper
2 cloves of garlic
1 tablespoon of vegetable oil
1 x 400 gram can of chopped tomatoes
1 pkt. Tuscan Meatball Recipe Base (Masterfoods)
1 red chili, seeds removed and finely sliced
1 teaspoon of parsley flakes
shaved parmesan cheese (garnish)
some fresh Italian parsley springs for garnish (optional)
Method
combine the mince, parsley, egg and breadcrumbs
using small spoonfuls of the mixture, make up golf-ball sized meatballs
using the oil in a frying pan, brown the meatballs turning frequently until cooked though
add tomatoes, crushed garlic, chili, and recipe mix, season with salt and pepper, and bring to a simmer
cook on low for a further 15-20 min. while preparing the spaghetti
serve meatballs and sauce over spaghetti
garnish with the shaved parmesan and parsley sprigs
Source: Originally based on the directions on the back of the Masterfoods recipe base and enhanced over time with additions of garlic and chili.