There are two schools of thought when it comes to the origins of Minestrone. One school asserts the the recipe was conceived during the the 1600s and 1700s while the other claims ascendancy from pre-Roman times. Whoever is right, what is sure is that there is no fixed set of ingredients, although there are common themes. Typically a Minestrone will contain an assortment of beans, a spectrum of fresh vegetables, a meat of some sort (ham, soup bones, or even a pigs trotter), together with herbs like thyme and rosemary.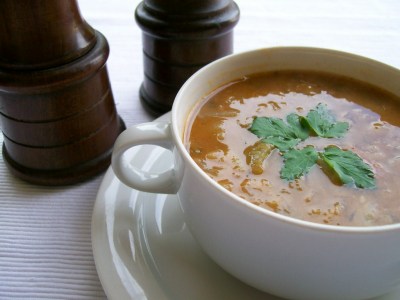 Minestrone Soup, garnished with Italian Parsley, served on the balcony.
Here is the full shopping list…
Ingredients (6 serves)
200 grams dried bean minestrone soup mix
one thick (10 mm) slice of smoked ham, diced
half a cabbage, finely sliced
1 leek, sliced into 10mm rounds
1 large brown onion, finely chopped
2 zucchinis, sliced (10 mm rounds)
2 celery stalks, diced
2 bay leaves
3 cloves of garlic, crushed
1 liter of chicken stock
1 teaspoon of chopped rosemary
1 teaspoon of chopped thyme leaves
2 tablespoons of tomato paste
salt and pepper to season
fresh Italian parsley and grated parmesan cheese for garnish
Putting it all together is reasonably straightforward. We add the pre-soaked beans to a couple of liters of boiling water water and let that boil on a moderate heat for an hour. Then we scoop out about half the beans from the mixture and mash them into a puree, add the meat, parsley, rosemary, thyme and tomato paste, and the pureed beans to the liquid and simmer for another 20 minuets before adding the remaining vegetables and stock. Simmer on a low heat for a further hour to hour and a half and serve.
Method
Soak beans overnight (eight hours), drain and set aside.
Bring two liters of water to the boil in a large pot.
Add beans and a little olive oil and boil over a moderate heat for 1 hour.
Remove half of the beans, puree (crush to a paste) and return the puree to the pot.
Add the meat, parsley, rosemary, thyme, bay leaves, crushed garlic and tomato paste and boil over a medium heat for another 20 minutes (note: if you using soup bones you will want to keep things on the heat for longer – possibly up to an hour by which time the any meat left on the bones is falling away from the bone).
Add the chicken stock and remaining vegetables and simmer for another 1 to 1.5 hours.
Garnish with fresh Italian parsley, serve alongside a bowl of fresh grated parmesan cheese and enjoy.