Tender veal steak rolls stuffed with melting mozzarella cheese, wrapped in prosciutto, served on a bed of rocket, garnished with Italian parsley and shaved parmesan, surrounded by a cluster of baked cherry tomatoes.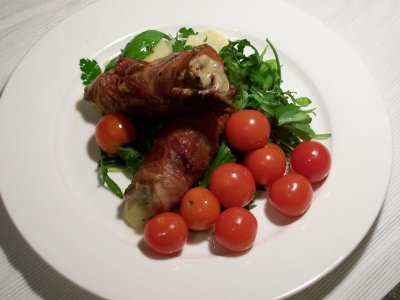 Mozzarella Veal wrapped in Prosciutto served with Roast Tomato Salad
This meal is relatively simple to prepare. The three principle elements are (1) the salad base, (2) baked cherry tomatoes, and lastly (3) the stuffed veal rolls. Preparing the rolls can be done well in advance and this is where most of the time is – so it's an excellent recipe for those occasions when you want to serve a meal that is visually exciting and tasty, but at the same time you want to keep your time in the kitchen down to a minimum. Preparing the veal for a couple of people takes about 30 min. and can be set aside in a refrigerator the day before. The remaining elements are trivial – baking the tomatoes requires practically no preparation, and the salad is about as simple as you can get – all up 5-10 min. kitchen duty and a total elapsed time of about 20-30 min. between start to delivery on the table.
Ingredients (2 serves)
The Salad

50g rocket leaves
a handful of Italian parsley
a handful of fresh basil leaves
250g cherry tomatoes
50g parmesan cheese (shaved)
vinaigrette or salad dressing
Mozzarella Veal
250g veal schnitzel steaks (4)
6-8 slices of prosciutto
100g mozzarella cheese (6-8 slices)
50g butter and a couple tablespoons of olive oil
salt and freshly ground black pepper
a sprinkling of sage
4 fresh basil leaves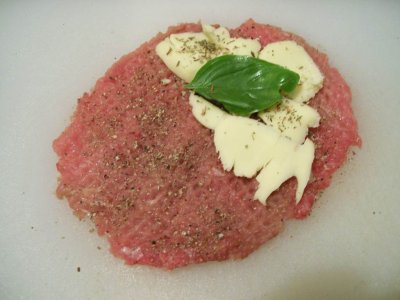 Preparing the stuffed veal rolls.
Method
tenderize the veal
season with salt and pepper
place slices of mozzarella cheese at one end (see above illustration)
sprinkle a little sage over the mozarella
place a fresh basil leaf on top
fold the other end of the veal over on top of the other
roll the folded veal into a cylinder and wrap with one or two slices of prosciutto
set aside and repeat the process for each veal streak
preheat oven to 180 degrees, place tomatoes into a baking dish lined with baking paper
bake tomatoes in oven for 20-25 min.
prepare salad by mixing the rocket and basil dressed with the vinaigrette
place salad in the center of the plates in preparation
heat oil and butter in a hot frying pan, add the veal rolls and cook for 4-6 minutes turning frequently, remove and arrange two rolls per plate over the salad
serve roasted tomatoes around the salad and veal rolls
garnish with sprigs of Italian parsley and shaved parmesan
Putting it all together.