Monday, July 14th, 2008
Paris, middle of winter, it's cold, the air is dry, sun sulking on the horizon, a little table in the corner of the cafe where a struggling beam of sunshine lights the edge of the wineglass filled with the house Cote de Rhone. Looking up, the waiter arrives, a Salade de Chèvre Chaud in hand, places it on the table, slips the ticket under the paper table cover, wishes 'bon appetit', turns, and disappears.
Aroma takes center stage, eyes to the plate, taste-buds kick in, …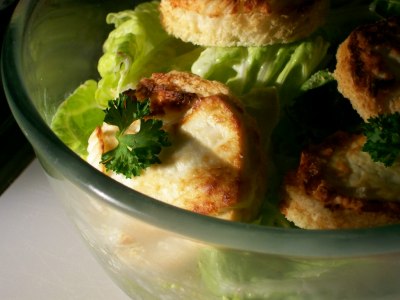 Salade de Chèvre Chaud, ready to enjoy.