Lunchtime, a summer afternoon, just the two of you. The ingredients are largely determined by the contents of the fridge but the usual composition is dry crackers, cheese, sliced olives, fresh salad, cherry tomatoes, salami and/or pepperoni, a little green capsicum, and garnished with fresh picked basil.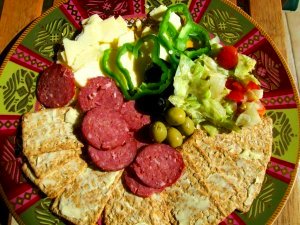 Ingredients (2 serves)
10-12 crackers
10 or more slices of mature cheese
1/4 green capsicum sliced into thin rings
a dozen slices of your favourite salami and/or pepperoni
a dozen olives, green or black, thinly sliced
small fresh lettuce salad with cherry tomatoes, chopped spring onions and French dressing
a couple of heads of fresh picked basil
Method
Locate a really beautiful serving plate.
Arrange ingredients as takes your fancy.
Garnish with basil leaves.
Enjoy!
This is finger food at its best. Take a cracker, a slice of cheese, and add whatever takes your fancy from the plate – a little bit of salad, a quarter of a cherry tomato, a slice of salami with a couple of sliced black olives, and maybe a little basil leaf on top. Hold in one hand, and take a bite. Don't forget to serve it up with a nice cold bottle of Chablis.