This is one of those wonderful salads – fresh rocket, light and flavor filled meatballs, zucchini, squash, basil, parmesan cheese, dressed with a basil, parmesan and cashew dip.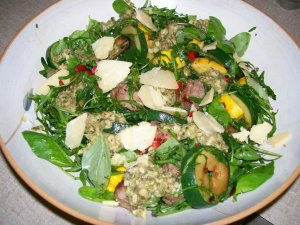 There are a couple of interesting aspects to this dish – firstly, the meatballs are really light and a joy to the palette, and this is largely because of the addition of bacon and onion. The bacon adds more oil to cooking process and the onion adds more liquid withing the meatball itself. Then we have the salad – and just plain rocket can be a touch aggressive but the addition of a health level of basil combined with the parmesan cheese seems to bring everything together.
The ingredients detail a main-course scenario for 4 serves, but you could just as easily prepare this as an entre for 6 or 8. As to the selection of veal or lean-beef, I've done both and public opinion leans towards the veal – it just a little lighter – but the beef variation is really good too.
Ingredients (4 serves)
The Salad

2 small zucchinis, thickly sliced
500 grams of yellow squash – trimmed and quartered
1 large red capsicum, chopped
100 grams baby rocket leaves
1 cup of fresh basil leaves
150 gram tub of chunky basil with cashew and parmesan dip
1/4 cup of shaved parmesan cheese
The Meatballs
1 onion finely chopped
1 clove of garlic, crushed
2 or 3 bacon rashers, finely chopped
500 grams of minced veal (or lean beef)
1/2 Cup of grated parmesan cheese
salt and pepper (about half a teaspoon of each for me)
Method
heat the onion, garlic and bacon in a large frying pan over a high heat until the onion is soft then set aside in a bowl and allow to cool for about 10 min.
combine the onion, garlic and bacon mixture with the veal and grated parmesan, season with salt and pepper and mix thoroughly
roll heaped teaspoons of the mixture into balls (about the size of a ping-pong ball)
brown meatballs over a medium heat using a couple of teaspoons of vegetable oil, turn occasionally (should be cooked though in about 8-12 min.) then remove the meatballs
after cleaning the frying pan, add another couple of teaspoons of oil and over a high heat cook the zucchini, squash and capsicum until just tender (about 5 or 6 min.)
combine the meatballs, vegetables, rocket and basil in a large serving bowl
garnish with the combined dip and water and the shaved parmesan cheese
Source: Derived from an article published in New Idea under the title 'Little Italy' (date of publication unknown).